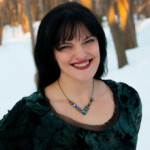 We are very excited to announce our next Guest of Honor for Penguicon 2016 – author Catherynne Valente!
Catherynne is a New York Times Bestselling author of Science Fiction, Fantasy, poetry, and short stories, including the YA novel The Girl Who Circumnavigated Fairyland in a Ship of Her Own Making, and is a regular panelist on the multiple Hugo Award-winning podcast SF Squeecast.
Her latest book, Radiance, is coming out tomorrow, October 20th!
Check out our Guest of Honor page for more details!