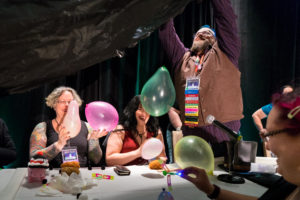 What a weekend!
Go right to the photos, presentations, and more.
After a year of intense planning by our staff and ConCom, Penguicon came to Southfield once again.  This year, we had over 1,550 attendees! Our Guests of Honor were all well-received, each bringing a unique perspective to the convention and to our theme, Artificial Intelligence and Smart Agents.[clear]
This year's convention has been the culmination of much hard work. We tried to present events at better times in better rooms and have better policies for incident management.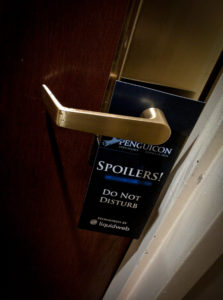 We brought back the computer lab (missing for at least 4 years) so people have a place to try out open source software. ConTV was back, allowing people to check the schedule from the comfort of their own rooms.
We put projectors in nearly every room so that all event presenters could have a multimedia presentation if they chose – that's a big deal!
Attendees devoured our Consuite like locusts, but left largely feeling good about its new location and size. The room parties were unprecedentedly large and well coordinated, our Maker Market saw more variety and better sales, and the costumes were just incredible this year.[clear]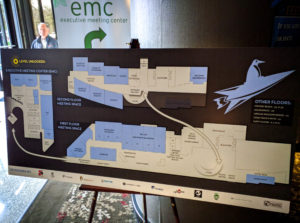 Our Writers' Block had a great prototype year, full of books, busy with authors and fans, and with readings and signings throughout the weekend. Whew! Our Hackerspace was busy with All Hands Active and Dangerous Things – people soldered LED badges and got RFID implants all weekend long.  The Artemis room looked incredible and more realistic than ever!  Our programming events were often full despite having more event space than ever, and so many people came up to me to say great things about what they were learning at Penguicon this year.
On a personal note, I've had a few larger goals over the last few years – I wanted to give Penguicon a unified style everywhere, from print to signage to the web site and social media.  (Whether or not you like the look, it at least gives people something to hang their hat on.)  I presented a newer, borderless version of the penguin-on-a-rocket-ship logo I originally created maybe five years ago as something a little more modern and legible from a distance.
I also tried to make sure our community on Facebook felt welcoming to new attendees, and that we kept up a constant communication with you so you wouldn't wonder what was happening with the con or feel like you had difficulty reaching out to staff with your questions.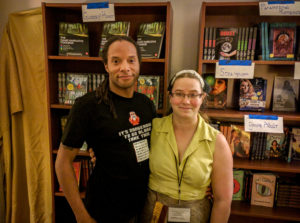 This year, I wanted to bring to you a convention that's more organized and has more institutional memory for what goes well or goes poorly. I also wanted to increase our signage so it's easier to get around our sprawling event space (it's clear we could use even more!).
I've spent three years volunteeering my time and energy on the ConCom of Penguicon. I'll be taking a break from staffing this year so I can recharge my batteries and work on my new home. 2016 was both harder and more fulfilling than I ever could have anticipated.  My time spent as first the Head of Communications and then Chair has changed my life, and brought me closer to my Penguicon family.[clear]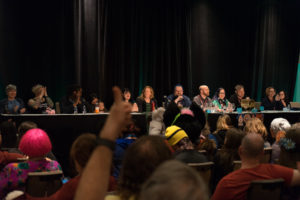 I cannot begin to express to you what an honor it has been to helm this nerdy spaceship by serving as your Chair.  I am so proud of my team, to whom I owe so much – that's any of you who volunteered time and energy to make this convention what it was.  The reason this convention just gets better and better is that we put all our heart into it. It's been incredible, and everything I hoped it would be – I hope it was for you, too.
If you'd like to help make the next one even better as a volunteer, staff, or ConCom, contact us, and change your life.
– Scott Kennedy, Chair of Penguicon 2016
Multimedia
If you'd like to provide a document from your talk, whether it was one you shared, your presentation, or a list of links for attendees to find out more, please email webmaster@penguicon.org with your presentation. Please include the name of your event.
Posts/Articles about Penguicon 2016
If you have a public review of Penguicon you'd like to share, email chair@penguicon.org with the subject line "Wrap-up".
Video Reviews
Photos from Penguicon 2016