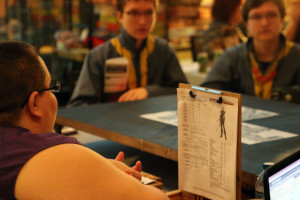 With SIXTY events, could this year's Penguicon game room be any better?
Thanks so much to the team from the U-Con game convention for providing almost 2/3 of them.
Strategy board games include:
 Lords of Waterdeep
Ticket to Ride
Tokaido
Kingsburg
Hey! That's My Fish!
Quantum
Imperial Assault
Euphoria
Alien Frontiers
Gravwell
and Alhambra The Dice Game.
Card games include:
Pack 'O Game
Back To The Future
Abyss
Android: Netrunner Card Game
Dominion
7 Wonders
and

Splendor.
Do you count Mahjong as a card game, even though it uses tiles? Well, we have it!
Rathbone the Pirate will teach authentic pirate games, and take on all challengers simultaneously in "Rathbone Vs Everybody".
Do you like cooperative games? These are games in which the players all win together, or all lose together.
Co-op games include:
Space Alert
Hanabi
Pandemic
The Big Book of Madness
The Quiet Year
Dead of Winter
Descent 2nd Edition
Arkham Horror
Zombicide: Black Plague
Legendary Encounters
and Star Trek Five-Year Mission.
In some co-op games, such as Betrayal at House on the Hill, one player will turn traitor!
Party games include:
Sheriff of Nottingham
Codenames
Coup
Ca$h 'n Gun$
Spyfall
One Night Werewolf
Are You A Werewolf
Salem
Deception: Murder in Hong Kong
and Hakosot.
Playtests of game prototypes include:
Order Of The Wand
Warlords of the 6 Kingdoms
and Kalidasia Fleet Commander – The Siege of Cadre 4.
Be on the lookout for the wacky wooden mechanical contraptions "Quatern" and "Exquisite Corpse Machine 3".