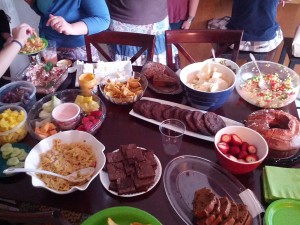 Our May ConCom meeting notes will be out shortly, but I thought I'd spread the word about a few things beforehand:
We are hard at work on our 2016 web site! We have a number of professionals in various specialties of web design contributing this year.
Each of our ConCom members will have an assistant (or Lead Staff) position, all the better to make sure our knowledge transfers and we continue to keep new people involved in running Penguicon.
Our Con Committee has expanded! Head of Volunteers will be a year-round role for 2016. Jessica Roland​ has some great ideas for how to keep everyone involved, fully trained for the positions needed, and feeling the Penguicon love.  The Volunteer Bash and the Staff Appreciation Party are likely to happen again this year, along with other volunteer-focused events.
We are changing the role of Assistant Chair to have a wider focus.  Some of the departments the AC will shepherd include our Maker Market, Charity Drive, and Maker Space, allowing our Head of Programming to focus on our tracks. Thanks very much to Daniel Dugan​ (who was critical to the success of our 3d-printing effort last year) for stepping up to a challenging role.
Julie Winningham jumped in at the last moment to make our film track fly last year, and has been asked to be the Assistant Head of Programming (one of the Lead Staff positions) – not only helping Janet with our main tracks, but sheperding our special event departments like Geek Prom, Chaos Machine, and Geeks with Guns. She did an incredible job as a Co-Head of Programming for ConFusion in 2015, and we're lucky to have her help.
Other changes include Nicole Milkovich as Marketing, Heather Fish​ in Sponsorships, and of course Meghan Oliver​ (who introduced herself on FB) for Community.
We're hoping to post our organization chart, along with the positions that are yet to be filled, very soon.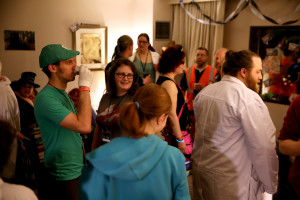 Also, we believe we are days away from announcing a contract – we have put our heads together with multiple hotels, each with their own positives and negatives. We'll announce that as soon as we can, but worry not, those hotels have each committed to the dates of April 29th – May 1st, 2016.
FINALLY: We've decided that June and July weekends are too crazy for in-person meetings. Parties and other social events are likely to happen, still.
We intend to plan a mid-week video hangout for those months, and will be resuming physical ConCom meetings in August (30th, to be precise). Amanda Robinson​ has offered her place (and pool!) again.
I'm terribly excited to have gotten so much done at our first meeting. Thanks to all who attended!