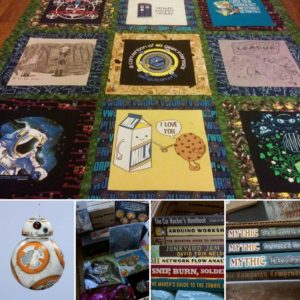 This year, the charity Penguicon is sponsoring is All Hands Active – a non-profit hackerspace in Ann Arbor that you probably recognize – they create the Penguicon LED badge kits you can solder together in our weekend hackerspace!
AHA gives back to the community each year through Citizen Science – with trained scientists teaching summer-long hands-on courses to local students about how to investigate a scientific question, build testing apparatus at the hackerspace, and publish in scientific peer-reviewed journals.
For more details on All Hands Active, see our Charity page!
We've got some amazing prizes this year, thanks to attendees and sponsors! Please join our raffle to win prizes at Closing Ceremonies, or participate in our silent auction by stopping at our Charity table. All proceeds go to All Hands Active.
For instance, in our silent auction you can win a lovely quilted blanket with nerdy shirts (some from Penguicon!) created by Amy Castner.
You could also win an auction for a VIP badge to Motor City Steam Con, thanks to Sal and her crew!
Along with that we have dozens of great tech manuals, RPG books, bioware trickets and more to offer for the raffle – $1 for 1 ticket, or $5 for 6!