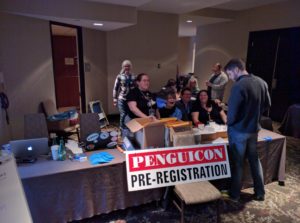 Penguicon attendees… we need you!
If you are looking to earn volunteer hours and at times like being in a fast paced position that kind of makes you the boss of everything for a little bit at Penguicon, consider giving your time to the OPS department.
In this position you can find easy things to do, such as: help a fellow attendee find a room, do room counts for panels, check out supplies, help out with registration when it's after hours, socialize with your fellow volunteers, socialize to some degree with non volunteers while working, help people get in contact with those they may have lost, lost and found tracking, pitching in where pitching in needs to happen, the list goes on! 
Help is needed from 3 pm Friday until 3 pm Sunday.