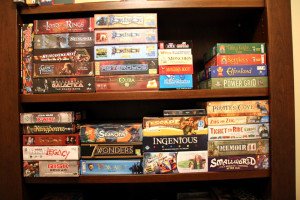 Gaming Track is bigger and better than ever.  Literally.  This year, in addition to our awesome gaming area and library, U-Con will be bringing their board game library to share (here is a list of all of their 145 games), and Lansing Maker Network is planning to bring some of their giant versions of popular games like Mega-Operation, GianTRIS (aka Mega-Tetris), and Colossal Connect Four!
Plus we'll be running a contest with a prize for whomever plays games with the largest number of other players over the weekend!
We would love for you to submit a proposal for an event in the Gaming track that you intend to present!
If you have an idea for a Gaming track event you'd like to see at Penguicon but don't want to present yourself, please suggest an idea for our track head to look into!