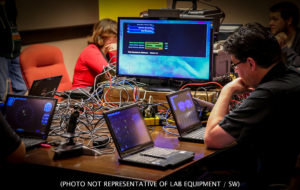 This year, Penguicon participants will be able to get hands-on with Linux in our new Computer Lab! Thanks to a generous donation from an anonymous attendee and the efforts of Cassy Sinke and her team, we will have 20 laptops available to play with, code on, and use during Lab events.
If the Computer Lab is a popular and well-used feature this year, we have additional equipment in reserve for future years!
The Computer Lab is additionally sponsored by Zextras – a company that creates add-ons for the Zimbra Open Source mail system.
The laptops are first come, first serve – there is more space in the room for seating, so please consider bringing your own laptop for official events in the Computer Lab in case they are occupied. They're loaded with Debian linux with lxde desktop, with atom editor, python 2.7, and python 3, along with much more.
The lab will be open until 10 pm on Friday and Saturday and 4 pm on Sunday, with a sign-up sheet for impromptu sessions and demonstrations. Please check in regularly as we get underway!
Here is a quick snapshot of the scheduled Computer Lab events throughout the weekend.
Get Hands on with Linux – Tom Lawrence, who was a great help this year, will be speaking about how to get going with Linux. A great primer for a first timer!
Hands on with Python – Daniel Dugan and Gib Nichols from MDLUG will talk about getting started with Python. They will float on the cloud and string like a "B".
Embedded Software with All Hands Active – Nick Ristow and Nate Yost will talk about building the AHA Penguicon Badge and ongoing development.
Grand Circus: Introduction to Coding – Catch up with Chioke and Kim! They are holding a bootcamp that they use to kick off coding careers in Detroit.
Kerbal Space Build Off – Daniel Dugan and Bob Trembley (WAS/JPL/NASA Volunteer) are holding a team competition on building a budget rocket inside Kerbal that can make it into orbit.