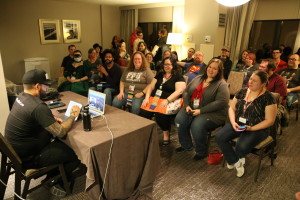 Programming is hard at work getting ready for Penguicon 2016! There have been some changes to our track line-up that we want to share.
The planned tracks for Penguicon 2016 are: Action Adventure, After Dark, Anime, Comics, Costuming, DIY, Eco, Food, Gaming, Life, Literature, Mayhem, Media, Science, and Technology.
Our new Media track will include events related to film, TV, music, and online video. The Comics track is for both traditional and web comics. The Gaming track will now include events related to both table top gaming and videogames.
The music track has posed a challenge as we attempted to present quality music while holding to Penguicon's policy not to to pay presenters' expenses. While we will still welcome music events at Penguicon, we will not have a dedicated Music track for 2016.