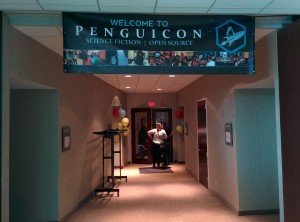 We are are in the final stages of planning for Penguicon.  Now all we need is you!
Penguicon only manages to be as awesome as it is through the dedication of its volunteers.  For as little as two hours over the weekend, you can give back to the con and your fellow con participants. As a volunteer-run event, your contribution is crucial to an amazing weekend for all.
Come join our ConCom and staff at our Volunteer Bash on Sunday, March 20 from 1pm – 3pm at our hotel, the Westin Southfield.   There will be games, prizes, and of course food and drinks.  There may even be a photo booth!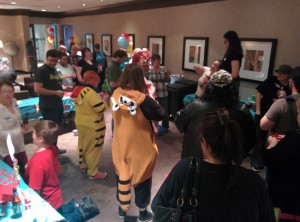 We'll also be holding a volunteer orientation three times an hour so all of our volunteers know what they can expect during Penguicon.
For more information on the Volunteer Bash check out our Facebook event.
If Penguicon holds a special place in your life, put in a few hours at our Greeters Desk, Operations Desk, Registration, or help the staff set up and tear down.
Don't forget that there are perks to volunteering besides satisfaction – you can bank your hours for reimbursement of your badge before you leave on Sunday (if we are in the black, which is pretty certain). You can also turn in your hours to stay in the Penguin Pit – volunteer crash spash that's first come first serve, so our volunteers can get sleep or freshen up.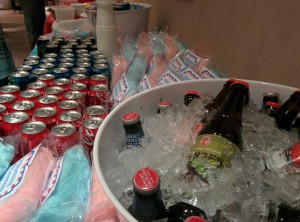 We've also got special ribbons – if you sign up to volunteer prior to the Friday of Penguicon you'll be given a limited edition ribbon, and another one if you sign up for four or more hours of volunteering.
If you can't make it to the bash but would still like to volunteer, email our Volunteers Coordinator, Jessica Roland, at volunteers@penguicon.org.
We hope to see you there!