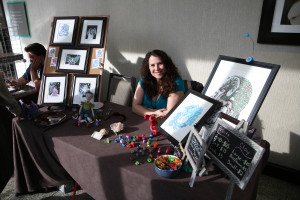 Our Maker Market has really become something incredible over the past few years – unique local artists of every stripe get together to share the things they've created with us.
It is with much pride and pleasure that we announce that we are now accepting Maker Market applications for 2016!
We've heard from our attendees that they love knowing that the plushie or sketch they picked up at Penguicon is NOT available at Amazon, so we're going to continue to only accept non-resale vendors – alternately, please feel free to write to chair@penguicon.org if you'd like to discuss a sponsor table.
If you have friends who sell their own (non-resale) work, whether it's LED kits, crocheted super heroes, bionic implants, or nerdy woodworking, please SEND THEM TO US! Share our Maker Market Application page with your friends and with your art and tech communities so that we can continue to see the huge variety of Maker Market vendors that we love so much.