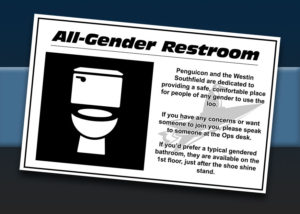 Penguicon has attendees, guests, and staff of all kinds of gender presentations. It has long been our ConCom's goal to help everyone feel safe and comfortable.
We have worked with the hotel to have clearly marked all-gender restrooms available on the second floor, as well as typically designated men's and women's restrooms on the first.
There are gender neutral designated restrooms at the White House, GDC (Game Development Conference), Emerald City Comic Con, and many other conventions and universities – their purpose is to make sure no one can be accosted for being in "the wrong place" when they simply need to go to the bathroom.
Additionally, we will have "I'll go with you" ribbons available for those who don't mind keeping someone company who is feeling anxious about stepping into the restroom they feel most comfortable in. Many of the ConCom will be wearing one, including the Chair.
In other great news, the Westin Southfield has been very helpful in seeing all gender bathrooms happen this year and has trained their staff to better meet our needs.
Please remember that when it comes to deciding which bathroom is "most appropriate", it's the person who has to pee who knows, and it's up to us to give anyone the benefit of doubt, as fellow human beings with bodily functions.
No matter which bathroom you go into or who is in there with you, it is not appropriate to interrogate someone about their body – you wouldn't want someone doing it to you.
If you're not comfortable with a person's presence, simply step out for a minute, find another bathroom, or ask someone to wait in the bathroom with you. If someone harasses you, please speak with someone at our Operations desk or find a ConCom member.
We must thank our Penguicon attendees for telling us that this is important to them, and for caring about everyone in the Penguicon family.
(Thanks to Sam Killermann for the original "universal bathroom" graphic!)