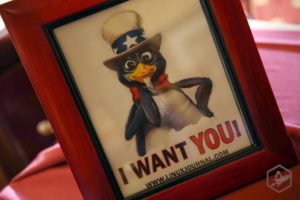 How would you like to be invited to an exclusive after con party?
I know you would because it is going to be amazing!  The only thing you need to do is to volunteer a little of your time at Penguicon.
Even better? If you sign up before Friday at 4pm there will be ribbons and swag waiting for you when you get there!
So, a party just for volunteers and limited edition swag just for helping us run the greatest convention ever;  sounds like a pretty sweet deal.
There are lots of ways you can help, even if you're not comfortable standing, lifting or carrying things. We will find the right volunteer position for you!
The convention is entirely volunteer-run – your time makes a real difference. Jessica is ready to answer all of your questions – write her at volunteers@penguicon.org and she'll help you sign up.
Only 4 more days until the best weekend of the year!