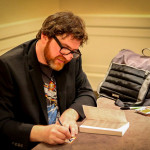 This year, we're providing a unique service to our attendees called The Writers' Block. It's a convention-run bookstore and book lover's social space, right next to our Hackerspace on the 3rd floor.
In true Penguicon spirit, this store will offer books by our Guests of Honor, Featured Guests, and attending authors. If you've written a book and you'd like to participate, you are welcome!
We'll have staff on hand to help you find a book you'll love, and regular visits from attending authors who will have readings and book signings throughout the weekend.
For more details, including a preliminary list of participating authors and store hours, check out our Writer's Block page.