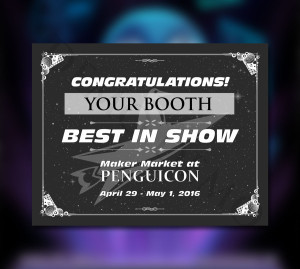 This year, the Maker Market will be having a contest to highlight the best Maker Market tables for Penguicon!
Judges will be checking out booths throughout the weekend, and will present the awards by early Sunday. They will also be announced during Closing Ceremonies!
Tables will be judged for:
* Style
* Engagement
* Moxy
Best in Show will win a free table and 2 memberships (to be used for that table) for the 2017 Maker Market, pre-approved!
We have a really great set of Makers this year, and our Maker Market page has been updated with the latest set of vendors coming to Penguicon. Our waiting list is small and openings do come up as we get closer to the event, so if you forgot to put in an application and you think you have something unique to share with us, apply ASAP!
Email makermarket@penguicon.org after filling out an application to be sure we know it has arrived.