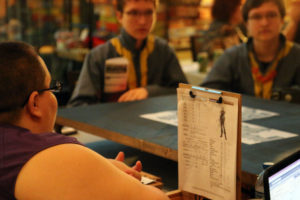 Some of our events have limited room due to the room size, donated supplies, game restrictions, or other factors.
The sign-up sheets for those events will be available at our Ops booth (next to Registration).
We recommend you sign up for them early, as they fill up fast!
Some events, like Midwest Mash, may be limited for those who want to taste, but still have room for a larger audience.
Event
Track
# of attendees
Presenter
DAY/TIME
Room
RPG: Roleplay Podcast Game
Gaming
4 (and waitlist of 4)
Jody Raiford
Saturday 5:00-6:50 PM
943 (Podcast Suite)
Print and Play D&D 5th Ed.
Gaming
6:00pm – 7:30pm: 7 players
7:30pm – 9:00pm: 7 players
9:00pm – 10:30pm: 7 players
Liquid Web
Saturday 6:00-10:50 PM
Lobby/Gaming
Love Hacked? 36 Questions That May Change Your Life
After Dark
18 (specific rules apply)
Edward Fleece
Saturday 7:00-8:50 PM
Charlevoix A
Make a Cute Penguin Plushie!
DIY
15
Janet Gocay
Saturday 3:00-4:50 PM
EMC V
Learn to Cross-Stitch
DIY
15
Janet Gocay
Saturday 7:00-8:50 PM
EMC V
Knitting 101
DIY
15
Kelly Vanderwell
Saturday 11:00-11:50 AM
EMC V
Intro to Needle Felting
DIY
15
Bagel Garrison
Saturday 10:00-10:50 AM
Hamlin
Midwest Mash
FOOD
25
Greg Williams
Friday 10:00-11:50 PM
517
Taste the Tastes
FOOD
30
Eric and Cathy Raymond
Saturday 4:00-4:50 PM
517
Pirate Rum History Tasting
FOOD
25
Emily Tuesday
Saturday 8:00-8:50 PM
517
Taste My Pickles
FOOD
30
Emily Tuesday
Saturday 9:00-9:50 PM
517
Frankenstuffies
DIY
15
RainbowRavenX
Saturday 12:00-12:50 PM
EMC V
Basic Sewing: Make a pillow
DIY
15
RainbowRavenX
Friday 6:00-6:50 PM
EMC V
Make a Set of Earrings
DIY
15
RainbowRavenX
Saturday 9:00-9:50 PM
Baldwin
Catherynne Valente kaffeklatsch
Penguicon
10
Catherynne Valente
Saturday 9:00-10:00 AM
Restaurant Back Room