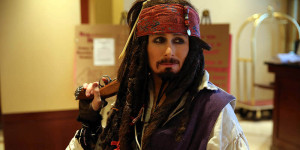 What goes into a costume? Whatever you want! It can be exactly what it says on the label,  but just like that thrift store find, with a bit of creativity (and maybe a hot glue gun) it can be whatever you want it to be.  The costuming track is a place to learn to create or modify costumes and props with a bit of makeup thrown in so you can really become your character.
We would love for you to submit a proposal for an event in the Costuming track that you intend to present!
If you have an idea for a Costuming track event you'd like to see at Penguicon but don't want to present yourself, please suggest an idea for our track head to look into!
Don't forget, the deadline for proposals is February 1st, submit your ideas today!