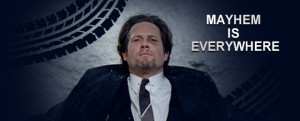 Mayhem is what happens when you leave the panels behind.  Play some giant Jenga, earn some con badges from the Scouts or get your fortune read.  There are lots of activities going on all convention long, look around and you'll find some fun!
We would love for you to submit a proposal for an event in the Mayhem track that you intend to present!
If you have an idea for a Mayhem track event you'd like to see at Penguicon but don't want to present yourself, please suggest an idea for our track head to look into!
Don't forget, the deadline for proposals is February 1st, submit your ideas today!